We produce in Latvia and use ourselves
Thanks to production in Latvia, we are able to produce and deliver products to our customers quickly and on time
of demand. The favorable location allows us to provide the delivery of the products throughout the Baltic States region.
Everything we produce, we use in our cosmetology practice in our GMT BEAUTY salon. Come and see for yourself our products and procedures.
GMT BEAUTY salon
Professional cosmetics and cosmetics for everyday use
We are for a beautiful result. Therefore, we have made sure that following the beauty treatments
procedures with professionals and continuing to supplement them with daily beauty rituals - with GMT
BEAUTY achieves an admirable look.
GMT BEAUTY for professionals
Yes to natural resources - no to synthetic chemistry
Humanity has been convinced for thousands of years that what is available in nature has power and nothing else can
to replace We at GMT BEAUTY capture the contribution of natural resources to human beauty and put it into practice
in each bottle.
Opportunities for business cooperation
Economical dispenser
Each time the dispenser is used, it releases exactly as much active substance as is necessary to achieve an effective result
Packaging made from sugar cane
Cosmetics that respect the environment and natural resources, therefore we choose the most efficient and environmentally friendly packaging and use production technologies that leave a minimal impact on the environment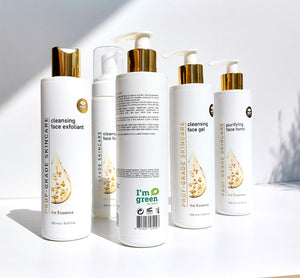 One drop philosophy
One drop of GMT BEAUTY cosmetics is enough to give results and make you beautiful.
Airless - air
Patented packaging technology for storing active substances for long-term cosmetic use
Clean and tested
GMT BEAUTY products contain carefully selected, natural ingredients and patented active substances to ensure excellent results for every user's skin.
GMT BEAUTY SALON
Free parking
Mon-Fri. 9:00 - 19:00
Sat. 9:00 - 15:00
Free parking